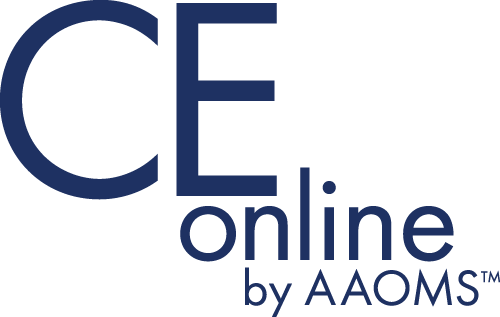 General CE questions
I forgot my password. How do I access my account?
You can reset your password.
How do I search or browse courses?
You can search by keyword or category by first clicking on Webinars or CE on Demand on AAOMS.org/CEonline. In addition, a search bar on the left side of the webpage will allow you to search both webinar and on-demand products by topic.
When do new courses get added?
New courses are added on a weekly basis. AAOMS features new webinars and on-demand CE courses several times a month. AAOMS maintains a CE library of more than 100 courses, and it continues to grow.
I want to present a webinar. How do I apply?
You can apply to present webinars on clinical, practice management or coding topics at AAOMS.org/Speakers.
Technical Support
For technical support or general questions, please email CEonline@AAOMS.org or call AAOMS' Continuing Education Department at 800-822-6637.
Purchasing and accessing courses
I enrolled in a course. Where do I access it?
Webinar: After enrolling in a webinar, you will receive an email with instructions for the day of the event. You also can click on Dashboard in the left sidebar of AAOMS.org/CEonline. Here, you will see all your courses listed. You will be able to enter the webinar 15 minutes before it begins.
On-demand: After purchasing an on-demand course, you will be able to access it by clicking on Dashboard in the left sidebar AAOMS.org/CEonline. All your active courses will appear here, and you can access purchased on-demand courses immediately.
Can I get a refund for an AAOMS purchase?
Registrants can receive a full refund for a webinar until the day before the event. No refund will be given for cancellation the day of the event. On-demand CE courses are not eligible for refunds.
I am not an AAOMS member. Can I still attend a webinar or purchase an on-demand course?
Non-members are welcome to purchase and attend both on-demand courses and webinars. You must first register and create an account at AAOMS.org/CEonline. After creating an account, you will have access to the entire AAOMS library for purchasing.
How do I take advantage of special member pricing for courses?
AAOMS members receive discounted pricing on select courses and webinars. You can find more information and apply at AAOMS.org/become-a-member.
My office wants to watch a webinar or an on-demand course at the same time. How do we get our CE certificates?
All practice management and coding webinar registrants are encouraged to watch as a team in one location. The main registrant must complete his or her CE certification process on the web component. All other viewers of the course can email ceonline@aaoms.org to receive their certificate.
On-demand clinical courses provide only one CE certificate per registrant.
I enrolled in a webinar that takes place during an inconvenient time. Can I watch it later?
Yes, you will have access to the webinar recording for up to 30 days after it occurs. For on-demand courses, you may complete them at any time.
Do I need any special software to take courses?
You do not need special software. AAOMS recommends using Google Chrome as the browser because most software companies no longer support Internet Explorer.
One of the course components won't launch correctly. What do I do?
Typically, these issues result from using Internet Explorer. AAOMS recommends using Google Chrome. If you continue to have issues, email ceonline@aaoms.org.
Do I have to complete an on-demand course in one sitting?
No. You will be able to stop and return to an on-demand course at any time.
Can I download a course and watch it later offline?
No, you must have an internet connection to stream the course content. You can access it through your desktop, tablet or phone.
CE credit
How do I obtain CE credit?
Once you have completed watching the video for a course, you will be prompted to complete a quiz and survey. You will then be automatically issued a CE certificate you can print or email.
Can I retake a course to refresh my knowledge?
For on-demand CE clinical courses, you can rewatch the video as many times as you wish. This varies for coding and practice management courses by course type. See individual course descriptions for specific details. If you have questions about a specific course, email ceonline@aaoms.org.
How do I know which courses I have taken?
The Dashboard tab of your user page on AAOMS.org/CEonline will list the courses you have completed.
Where can I access my CE certificates from courses I've taken?
You can access your completed course CE certificates on the Dashboard on the left sidebar of AAOMS.org/CEonline. For in-person AAOMS events you have attended, you can access certificates at AAOMS.org/myCE.
| Access Date | Quiz Result | Score | Actions |
| --- | --- | --- | --- |
NEW! Clinical CE Subscription
This OMS Member-only opportunity includes more than 100 clinical CE on Demand courses available for one year with 24/7 access for $249. Register here.